SECTION 1
-Concentrations & Measurments
-Goddess Oils
SECTION 2
-Herbal Oils
SECTION 3
Title 1
Title 2
Title 3
Title 4
Title 5
SECTION 4
Title 1
Title 2
Title 3

Tips for the Household


The following was taken from an article by "oil-maker Tisserand" in the June edition of Slimming Magazine

1. Use essential oils in the final rinse of a washing machine cycle.
Dilute 6 drops in water or add 6 drops to a liquid fabric
conditioner. Use clear oils such as Lavender, Pine or Lemon.

2. Give fridge-freezers a wipe around when cleaning using Orange or Grapefruit. Dilute your chosen oil in one litre of water.

3. Use 5 drops of anti-septic oil such as Tea Tree or Bergamot to a
litre of water, and wipe over kitchen surfaces and floors.

4. Take Citronella and Lemongrass oils on holiday - they make great insect repellents at home or abroad.

5. Use Grapefruit to get rid of stale smells and tobacco smoke from
curtains.Saturate a cotton wool ball in citrus oil and place in the hem of the curtains.

Carrier Oil - an oil used for diluting essential oils so they won't be too strong and irrating on the skin
Essential Oil - the oil extract of a plant or fruit.
Caution should always be used when working with essential oils. Be sure you understand their properties before you use them.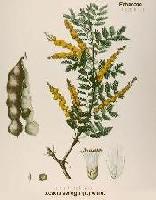 Acacia senegal

Concentrations & Measurements

Approximate Measurements:
1 drop = 0.05 ml
1 ml = 20 drops
1 teaspoon = 5 ml
1 teaspoon = 100 drops
1 dessertspoon = 10 ml
1 tablespoon = 15 ml
1 tablespoon = 300 drops
1 ounce = 30 ml
1 ounce = 600 drops

Concentrations:
Massage - 1 to 3 drops essential oil per 5 ml carrier oil
Compress - 2 to 6 drops essential oil per 6 to 8 ounces very hot water (soak cloth, wring out, and apply)
Inhalant - 2 to 6 drops essential oil per 8 to 16 ounces very hot water (inhale vapor)
Bath - 4 to 8 drops essential oil per pre-run bath water
Footbath - 2 to 6 drops essential oil 8 to 16 ounces of very hot water
Room Fragrance - 4 to 6 drops essential oil per 3 to 6 ounces water (heat with candle)
Facial Oil - 1 drop essential oil per 10 ml carrier oil
Lotion - 1 drop essential oil per 5 ml spring water (shake before using)
Scalp Oil - 1 to 4 drops essential oil per 10 ml carrier oil
Hair Rinse - 4 drops essential oil per 1 liter warm water
Mouthwash - 1 to 2 drops essential oil per 8 to 16 ounces spring water (shake before using)